Landscaping Andrews Farm
BT Landscaping – Design, Construction & Maintenance Experts
Call for a quote today and give your garden the makeover of your dreams!
At BT Landscaping Andrews Farm, we strive to fulfil our customers' vision of having that perfect backyard garden or an eye-catching landscaped lawn as entrance to their office building.
Call today and let our experts guide you with your landscaping project in Adelaide.
BT Landscaping offers a comprehensive bouquet of landscaping services including:
Landscaping – Design, Consultation, Construction & Maintenance
Retaining Walls
Paving
Concreting
Lawn Mowing
Instant & Artificial Lawns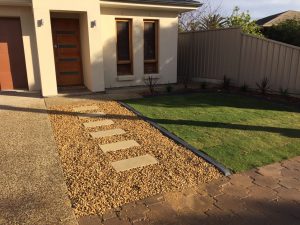 Professional Landscaping Services
At BT Landscaping Andrews Farm, we follow a rigorous recruitment process to get the right people for your landscaping job. Each member of our team is qualified and skilled tradesperson, well equipped to handle landscaping jobs of any nature. With a keen eye for detail, strong passion for landscaping and patient ear for our customers' requirements, our team can transform your garden or lawn from a vision to reality.
BT Landscaping Solutions is fully insured with public and liability insurance so that you can entrust us with the care of your garden without a worry in the world!
Your Landscaping Partners in Andrews Farm

At BT Landscaping, we plan our landscaping project to suit your time and budget needs. You are our partners in every phase of the job. Whether you want us to complete the project in phases, or entirely at one go, or even if you want just a part of our services – we can accommodate it all to your comfort and desire!
Before we begin our consulting process, a Landscaping Expert from our team in will hear out your requirements from the project. Thereafter, you will be presented with a landscaping design with our experts' inputs incorporated. We can customise our services and design to suit all your landscaping needs.
Outstanding Customer Service
We strive to deliver exceptional customer service. Our team undergoes regular trainings to keep them abreast of the developments and industry best practices. We bring high-level workmanship and an unwavering commitment to quality to every project we undertake.
BT Landscaping Solutions Andrews Farm has a growing list of happy customers who have commended us for getting the landscaping right, the very first time!